Botox or hyaluronic acid : How to choose?
Esthetic medicine offers solutions to help remedy the aging process of the skin and Dr Véronique Coissard will discuss with you about the best treatments to suit your specific needs.
What is Botox, what is the use?
Botulinic toxin (Botox) is a powerful muscle relaxant used to treat various medical conditions from muscle spasms to excessive sweating. In esthetic medicine, botox injections temporarily relax (approx. 6 months) the muscles responsible for the wrinkles to give the skin a smoother surface and to rejuvenate the eye contour without surgery or pain. For a lasting result, the Doctor will recommend you the number of necessary injections.
Treated areas by the botox?
The intramuscular injections of Botulinic toxin in small quantities help treat the crow's-feet, the wrinkles between the eyes, on the forehead, the neck and around the lips. The injections with thin needles are generally painless.
The Doctor uses the 3 botulinum toxins currently available on the market: Bocouture, Vistabel and Azzalure.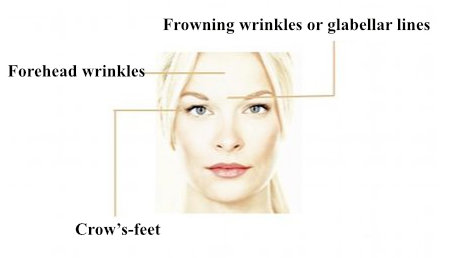 What is hyaluronic acid?
Hyaluronic acid is a substance that is naturally produced by your body, including in the dermis, the internal layer of the skin. It is known for its hydrating properties for the beauty and elasticity of the skin and for protecting it from outside aggressions. With age, its quantity and quality decrease leaving the skin more fragile, thin, wrinkled and with less volume. Injections of hyaluronic acid at the doctor's office can fight this aging process.
Areas treated by hyaluronic acid?
It can be injected in the wrinkles (crow's-feet around the eyes, over the upper lip, frowning wrinkles between the eyebrows and the vertical wrinkles on the cheeks) but also in the under-eye circles, lips, nose and chin. Hyaluronic acid can also redefine the oval of the face and give volume in the areas of the cheeckbones, the temples and the hands.
The injections at the Doctors office are precise, with the right dose at the right place. Sessions last between 15 to 30 minutes depending on the number of areas treated.

Do I need to choose between botox and hyaluronic acid?
Dr. Véronique Coissard's answer is no! They are complementary rejuvenating treatments and can be injected during the same session.
Botox is essentially used in the upper face to smooth the wrinkles and hyaluronic acid more often in the lower face to replump the skin.
Botox and hyaluronic acid are very effective techniques to fight against the aging process of the skin. The result is natural and instantly gives it a more radiant, visibly more youthful and voluptuous look without surgery or social eviction.