HIFU
Focused ultrasounds. Fight skin slackening.
This new technique without surgery and needles improves durably the slackening of the oval of the face but also the cheeks, the double chin, the neck, the cleavage, the upper eye lids and certains areas of the body like the arms and the thighs.
The ultrasounds applied on the skin heat up the collagen at different depths and create very precise retraction points on certain areas. The results are immediate for the eye area and visible in a few weeks for the oval and the body.
The patient feels a light heat when the ultrasounds are applied and the doctor adapts the intensity around the feeling. The session lasts between 20 mn for a small area (eye lids, double chin) and 60 mn for a large area (oval, body). In one session the face is relaxed and the eyes more open.
The improvement of the oval, arms and thighs can be seen progressively within 8 to 12 weeks, the necessary time for new collagen synthesis. The results are long-lasting and according to the patient's wish, a new session can be done 1 to 2 years later.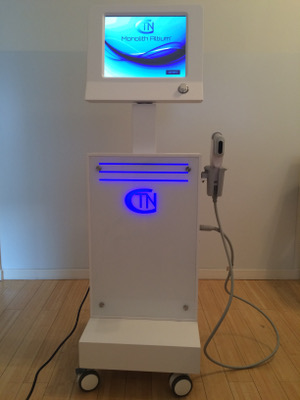 DR Coissard uses the latest HIFU CTN (Cryotechnonordic), a new generation machine less painful and less expensive than first-generation machines.
Rates per session:
Small area (look, double chin), session of 20 mns, 300 euros HT.
Large area (oval, arms or thighs), session of 50 mns, 700 euros HT.
Dr. Coissard concludes: "This is a new opportunity to treat the sagging of the face and body to a depth that the lasers can not reach, in a simple way and without side effect. This allows us to logically supplement our conventional hyaluronic acid or botulinum toxin injection treatments, as the relaxation of the oval and upper eyelids is a major concern of our patients. "