Treatment of the wrinkles of the face with injections of botulinium toxin
The botulinium toxin is a simple solution to treat the expression lines of the upper face, in a preventive way at the appearance of the first wrinkles or to correct existing wrinkles by reducing the muscular contractions responsible for these wrinkles.
The face is relaxed but not freezed, The wrinkles are smoothed and the eyes are more radiant.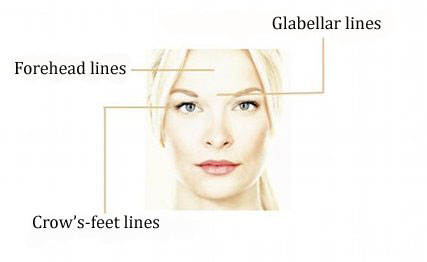 What is botulinium toxin?
This protein molecule, known for 25 years, is used both in traditional medicine and cosmetic medicine. The botulinium toxin relaxes certain muscles of the face. The traits are relaxed, the excessive frowning of the eye brows disappears, the skin is smoothed and the eyes are more radiant.
About the injections:During the first consultation, Dc Coissard will examine your wrinkles and the volumes of your face.
After taking pictures, she will suggest a treatment plan which you can discuss together and a fee quotation will be provided.
The injection does not require a local anesthesic and you can return to your normal activities immediately after, only avoiding the practice of a sport activity.
What are the results?
The botulinium toxine smoothes the wrinkles of the forehead and around the eyes to refind youth and radiance. The tail of the eye is slightly raised, the eyes are more radiant.
The result is natural and the doses used are adapted accordingly. The results show about 48 hours after the injection. The effect of the botulinium toxine gradually disappears in 4, 6 or 8 months and in rare cases even longer.
A fee quotation will be provided.
Dc Coissard uses different hyaluronic acids according to the specific requirements :
VISTABEL (Allergan Laboratory)
AZZALURE (Galderma Laboratory)