CRYOLIPOLYSIS
Slim down with cold
This new technique, without surgery and needles,,can remove the moderate fat located on the abdomen or « love handles », the stomach, the bottom, the saddlebags, the oblique folds of the back and in some cases on the arms and the double chin.
Cold is applied with suction cups or cryo probe, that suck then cool down the desired areas during approximately 50 mn. The patient first feels a light pinch then the numbness of the treated zone, without pain.
At the end of the session, the skin is a little red for an hour with sometimes for sensitive skins, a light edema for a few days. It is possible to read, listen to music or watch a movie during the session and to resume normal activity right after with no discomfort.
The aesthetic improvement really shows after 6 to 8 weeks, the time for the fat cells to decrease in number. Depending on the size of the bulge, 1 to 3 sessions every 2 months are necessary, any time of the year and whether the skin is tanned or not.
The improvement is long-lasting if the patient maintains a healthy diet and regular physical activity.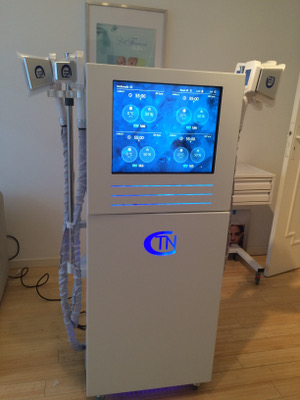 Dc Coissard uses the latest CRYOLIPOLYSIS CTN (Nordic Cryo technique) which can treat 1 to 4 areas at the same time with 4 independent cryo probes.
Prices for a 50 mn session: 250 euros HT to 1000 euros HT according to the number of areas treated (1 to 4).
Dc Coissard's conclusion: « Cryolipolysis, the new technique to remove unflattering bulges, is very successful due to its simplicity, effectiveness and its reasonable price. On the first consultation, based on a clinical exam and photographies, I will give you my advice on how to obtain results within a few months ».