Absorbable thread lifting
Improvement of the oval of the face.
A new generation of threads help improve the oval of the face after 40 years old by lifting certain areas of the face with absorbable threads placed under the skin at the doctor's office and without bandage.
The absorbable threads are biodegradable and inductors of collagen, not the metallic threads used by surgeons until now.
At 40-45 years old, the first signs of ptosis, the slow drop of tissues of the medium part of the face, can be seen leading to the loss of the beautiful oval of youth and the appearance of cheek pouches.
The regular injections of hyaluronic acid to give a « lift effect » at 40 years old is a good solution and I recommend it to all my clients to maintain their oval. But sometimes patients consult later or the injections are not enough when the skin is thick and heavy and the absorbable threads are a very good solution for those who do not wish or need a surgical lifting.
The intervention lasts one hour with small local anesthesias. The improvement of the oval is visible immediately (Before-after photographies) and the effects are simple: light edema, sensitivity for a few days and a lumpy aspect on the higher part of the cheek, du to the necessary traction, which women can easily hide with their hair during the first week. Your docteur will see you 8 days and 6 months later.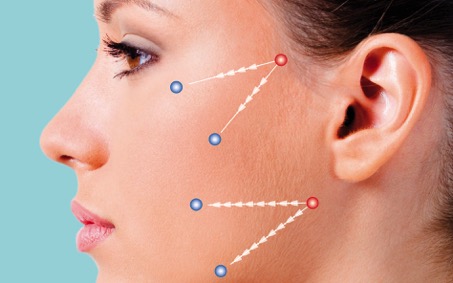 DR Coissard uses the Silhouette Soft resorbable wires (Sinclair Laboratory). It is a polylactic acid thread, a product known and used for 20 years as collagen inducer and resorbable.
The yarn is placed so as to exert a gentle traction up the cheeks, and then stimulates the formation of neo-collagen on its path in the skin, which will maintain the lift effect as this yarn is reabsorbed. The improvement lasts 12 to 18 months, then you can rest new threads.
Dr. Coissard concludes: "I am glad to be able to propose this solution to those of my patients who can no longer support the change of the lower face, when injections of hyaluronic acid are no longer enough and want immediate improvement; Other resorbable yarns seem to be very interesting to treat a relaxed neck, but again, not all patients can have the same improvement. Every skin, every release, every production of neo-collagen is different.